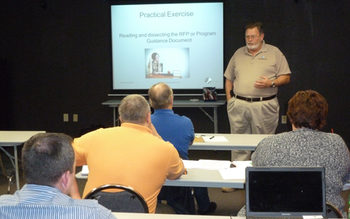 With our friends at Berlin & Gorham FD, NH, Apr. 18-19, 2020
"We were awarded an AFG grant in the amount of $150,286 to purchase 24 air packs. We would not been able to make this purchase without me taking you class and learning how to write grants. Thank you for all of your help!"

– Bobbi Beers, Friendship Fire Company No. 1, Inc., Roaring Spring, Pennsylvania
New grant training in New England! Our friends at New Hampshire's Berlin & Gorham FD are graciously hosting 2 days of grant-writing training for anyone in public safety, first responder, and emergency management.
Does this sound like your agency?
Your agency lacks funds for vital equipment or training.
You applied for grants in the past, but just can't seem to get your application into the winner's circle.
Times are tight and your budget is shrinking, but grants seem so intimidating, you'll never figure out how to get that crucial additional funding for your department.
You're not the only one. Fire Departments, Law Enforcement Agencies and other Emergency Services Agencies nationwide have felt the sting of the budget ax.
They could've spent another year going without.
But they did something else. They took action, and they got that crucial grant funding.
Register today and get ready to have 2020 be full of grants for your agency!